Pearl - Moti is the gemstone ruled by moon planet. Pearl is the gemstone that is used to enhance the powers of Moon. The planet Moon is by nature saumya (Gentle) and represents the manahsthiti (mind) of the Person. The Pearl - Moti gem stone is very good stone. It gives a calming influence and keeps the minds focused and steady.The English word `Pearl` comes from Middle English and from old French `Perle`. Pearl is known by different names like: Moti, Mukta, Moktim, Induratna and Shairatna. A pearl is a hard, lustrous spherical mass,whiter or bluish grey, formed within the soft tissue of an oyster The ideal pearl is perfectly rounded and smooth, but many other shapes of pearls occur. The finest quality natural pearls have been highly valued as gemstones and objects of beauty for many centuries.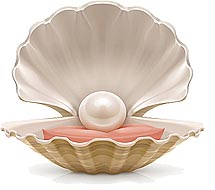 The moon influences human mind very much. The Pearl Moti gemstone should be worn by those persons who find themselves always in an angry mood and temper. Pearl Moti gemstones pacifies Anger passions and mental inconsistency and strengthens the heart.
In Astrology Planet Moon represents native emotions, fortune, fame, memory, success happiness comforts etc. Moon is the lord of sign Cancer (Karka). It is recommended to wear if native face any problem due to ill effects of Moon (Chandra) Planet in Horoscope.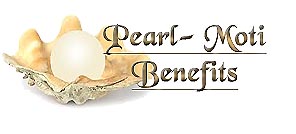 PEARL MOTI GEMSTONE BENEFITS
Pearl ( Moti) Play a very Important Role in the Lives of Persons of Persons born in the given Ascendant namely " ARIES ", " GEMINI" LIBRA " and "SCOPRIO
Pearl Moti is used to remove the ill effects of Chandra Graha Moon Planet .
A Pearl Moti with a yellow lustre brings prosperity. Red-tinted pearls make one intelligent, shining white pearls bring fame, and a pearl with a bluish hue brings good fortune.
Pearl Moti Provides with an intuitive nature, sensuality, taste, love of poetry, fine arts and music and an attractive appearance.
For a person whose Moon is badly placed in his Horoscope it difficult for that person to achieve a comfortable life. A Bad moon also makes such people weak or sick in their early age thus its Recommended that they should wear a Pearl Moti Ring to Enhance the Positive effects of the Moon and Lead a Comfortable life.
Pearl Moti Ring strengthens the mind force and brings good sleep.
Persons in the Business of arts, perfumes, milk, oil, beverages, ship building, exports and imports, vegetables and flowers are benefited by wearing the gem pearl.
Moon controls all the fluids in the human body which largely consists of fluids. Moon has cycle of 28 days. Therefore controls the menstruation cycles of females.

PEARL MOTI GEMSTONE PROPERTIES:
A pearl is a hard Rounded object firmed within the soft tissue of a living shelled mollusc OYSTER . The pearl is made up of calcium carbonate in minute crystalline form, which has been deposited in concentric layers
The Specific Hardness of a PEARL Moti is 2.60 to 2.85
The Hardness is 2.5 to 4.5 on Mohs Scale. Colour = Mostly Natural Pearls are in White But they are also available in pink, silver, cream , golden-colored, green, blue, black. Cultured pearls are produced by artificially inseminating the shells. Pearl Oysters belong to the Pinctada family of the mollusc group in class Lamellibranchia. Pinctada molluscs are saltwater oysters. Molluscs like Unio and Hyriopsis are freshwater mussels. The shell is composed of various layers.



Minimum weight of Pearl Moti should be 5 Carats.
Pearl Moti

should be studded in ring in Silver.
Pearl Moti

j

should be worn in the Smallest finger .

Day for wearing

Pearl Moti : Monday.

Time for wearing:

The best time to wear this gemstone is after Sunset , when the Moon is Rising.

ON A Monday Evening.

Put Pearl Moti ring with a Cup with a mixture of 1 spoon curd , 1 spoon Honey , 1 Spoon Milk , ˝ Spoon Sugar , ˝ Spoon Ghee.

Take this Ring out of the Above Mixture and wash it with Water or Ganga Jal.

Weat the Pearl Moti Ring and Say the following Mantra .

Mantra: " Om Chandraya Namah " 108 times.

After Wearing the Pearl Moti Ring you should donate any White items like Milk Rice to a Brahmin or Any Poor Persons on this day to draw the best benefit of the Pearl Moti Gemstone Ring.
YOU CAN ALSO GET A LABORATORY CERTIFICATE OF AUTHENTICITY FROM A REPUTED GEMSTONE LABORATORY ON PURCHASING THE GEMSTONE.
Copyright - Amit Lamba - Mumbai INDIA

For Best Name Change Numerology Astrology Horoscope Guidance for Business , Job Marriage ,
Contact India's Top Astrologer Numerologist and Vastu Expert.

Mr Amit Lamba on 9819015736 / 9324012326 .


pearl , Moti ,gemstone, Mumbai , Bombay , Astrology ,Moti , White pearl , , India , Birthstone , Pearl Gemstones Dealer, identification,pearl treatments,pearl properties,pearl information,mother of pearl , Lucky Stones , GEMS GUIDANCE, Gemologist , RATNA ADVICE ,Gemstone Consultant , Birth Stone , Gems Advice , Gems Expert , ENERGIZED GEMSTONE - Mumbai, India , Precious Stones , Semi Precious , GEMS, Lucky Gems , Birth stones , Lucky Stones . Gemstones India, Gemstones Mumbai, RATTAN, RATTAN India, ASTROLOGY India, Neelam , Pukhraj , Shani , Pearl, Gemologist , Ruby, Manik ,Red Garnet , Pearl, Moti, Moonstone, Emerald, Panna ,Aquamarine, Zade, Diamond, Heera White Sapphire, Blue Sapphire ,Opal, Lucky Gems , Lucky Stones.